ISKCON News article on Reconnection and Show Reconnection around the World campaign
This is a great article by Madhava Smullen we are excited to share with you.
ISKCON News did quite a research putting together a wonderful profile of the film and the filmmakers. Please, read the full article and support "Show Reconnection around the World" campaign!
Vrindavan Film 'Reconnection' Wins 15 Awards
Reconnection, a 40-minute film written and directed by Siberian devotee couple Maksim Varfolomeev and his wife Olga Avramenko, has been making a real splash in the film festival world.
A cinema verite piece, it tells the story of tech professional Sean Fletcher, a typical victim of our Internet-addicted age. Emotionally and spiritually cut-off, Sean stops in Vrindavan, India on the way to Nepal, and finds that the sacred village breaks him down to his core and helps him reconnect with his own heart and inner values.
Beautifully shot and edited and perfectly capturing Vrindavan's contradictory energy and chaos, peace and devotion, Reconnection has made a big impression since it hit the film festival circuit in June 2015.
It has made it into the official selections of 27 festivals around the world, and won 15 awards. These include 1st prize in the 'Best Short Film' category at Toronto's ReelHeART International Film Festival, much valued by independent film-makers; and 'Best Cinematography' in California's Back in the Box Competition.
In India, Reconnection was awarded at two major indie film festivals – the Indian Cine Film Festival in Mumbai and Dada Saheb Phalke Film Festival in Delhi.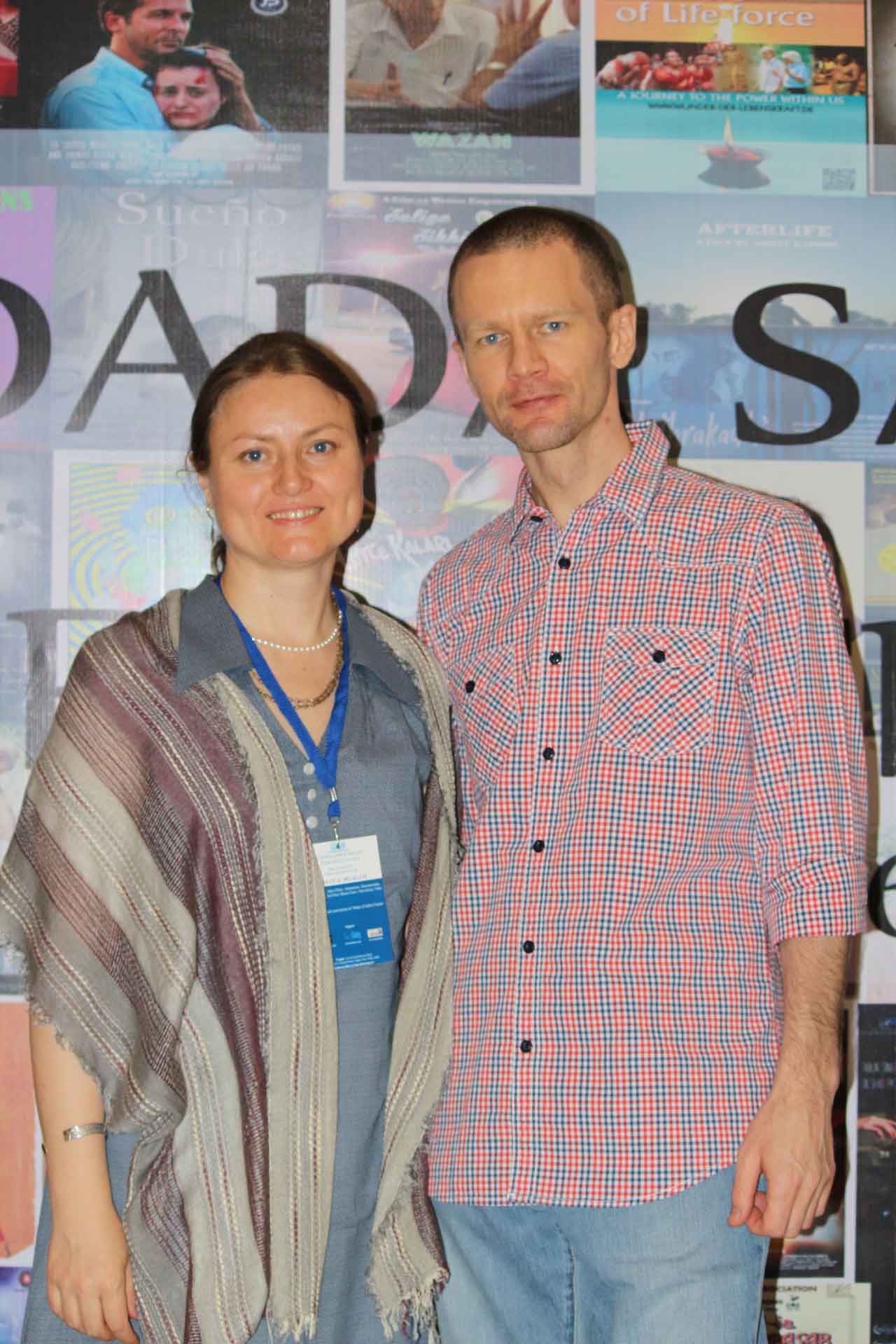 Vijay Radhika and Shyam Gopal at 6th Dada Saheb Phalke Film Festival, Delhi, April 2016.
In Mumbai, G.L. Bhardwaj, a veteran film-maker who worked with Bollywood legend Raj Kapoor and directed acclaimed documentaries like "Shocking Asia" and "Shree 420" presented Maksim Varfolomeev and Olga Avramenko with their award.
Bhardwaj lovingly referred to Reconnection as the "Radhe Radhe film" and praised it saying, "My film 'Land of Krishna' made several international and national awards, but [Reconnection] has done it much better!"
"We were so humbled, yet so honored to receive the award from him!' Maksim Varfolomeev says.
The filmmakers were also delighted to receive the Vaishnava Film Award at the Vaishnava Film Festival in Mayapur, West Bengal in March. "We were not able to attend, but it was an honor for us that the film was so highly appreciated by the vaishnava community we belong to," says Maksim.
Film festival jury members and film critics also lavished praise upon Reconnection.
"The uplifting Holi festival, monkeys stealing things, Indian cuisine in its diversity and colourfulness, temples, cows, the concept of timelessness, the merging of the mundane and the sacred in almost untraceable ways, everything that comes to mind when one imagines India is in its proper place in Reconnection," enthused the Largo Film Awards in May.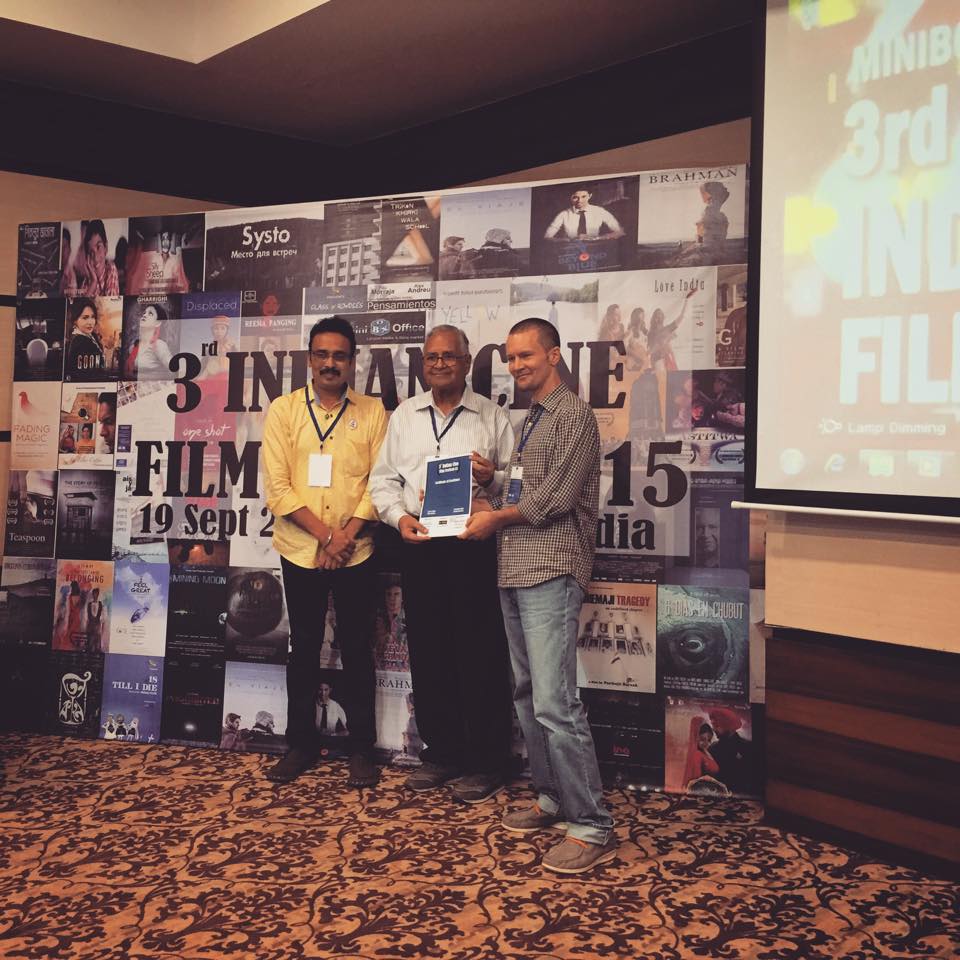 Maxim Varfolomeev receives an award from G.L.Bhardwaj at 3rd Indian Cine Film Festival, Mumbai, September 2015.
"Reconnection is not only a film, but a journey on the path of forgotten values that wait to be rediscovered by the technologized society," wrote 12 Months Film Festival director Vlad Alexandru.
And Switzerland's Ouchy Film Awards review said, "Humble in its appearance, Vrindavan is not trying to awe you by grandeur of white temples and impeccable nature. What it offers is a healing experience through helping others and sharing your life and love with them."
Others called the film "visually stunning," "a journey of spiritual awakening," and a film with "the power to give correct priorities in life."
Individuals who viewed limited free online screenings of the film were also deeply impacted. Hatha-yoga teacher Natalie Shustova from Moscow, Russia wrote, "This film is about a search for happiness which is not fleeting. I recommend it to everyone!"
Canadian film festivalgoer Drea Andrea Burck wrote, "Opening night of the ReelHeART International Film Festival included two wonderful films – Reconnection and Searching for Dragons – that made this avowed urban girl want to get off the grid and figure things out."
Kamala Sundari wrote that the film gave her "goose bumps hundreds of times, and there were many points where I had tears in my eyes. This movie fascinates, and is calling you to go back to Vrindavan. I want to be there right now!"
Maksim Varfolomeev and Olga Avramenko themselves, meanwhile, are moved by seeing other people get transformed by Vrindavan through their film – just as they were transformed by visiting the holy town years ago.
"More than ten years back, we found ourselves in Vrindavan for the first time," Maksim says. "Vrindavan changes people's hearts with its unique atmosphere. Back then something happened to our hearts and minds, something indescribable, just like it still does to many people who visit."
Maksim Varfolomeev and Olga Avramenko need help to recoup the cost of their privately funded film, so that they can make it available for free public access. They are currently raising funds through their "Show Reconnection around the World" campaign on the film's website.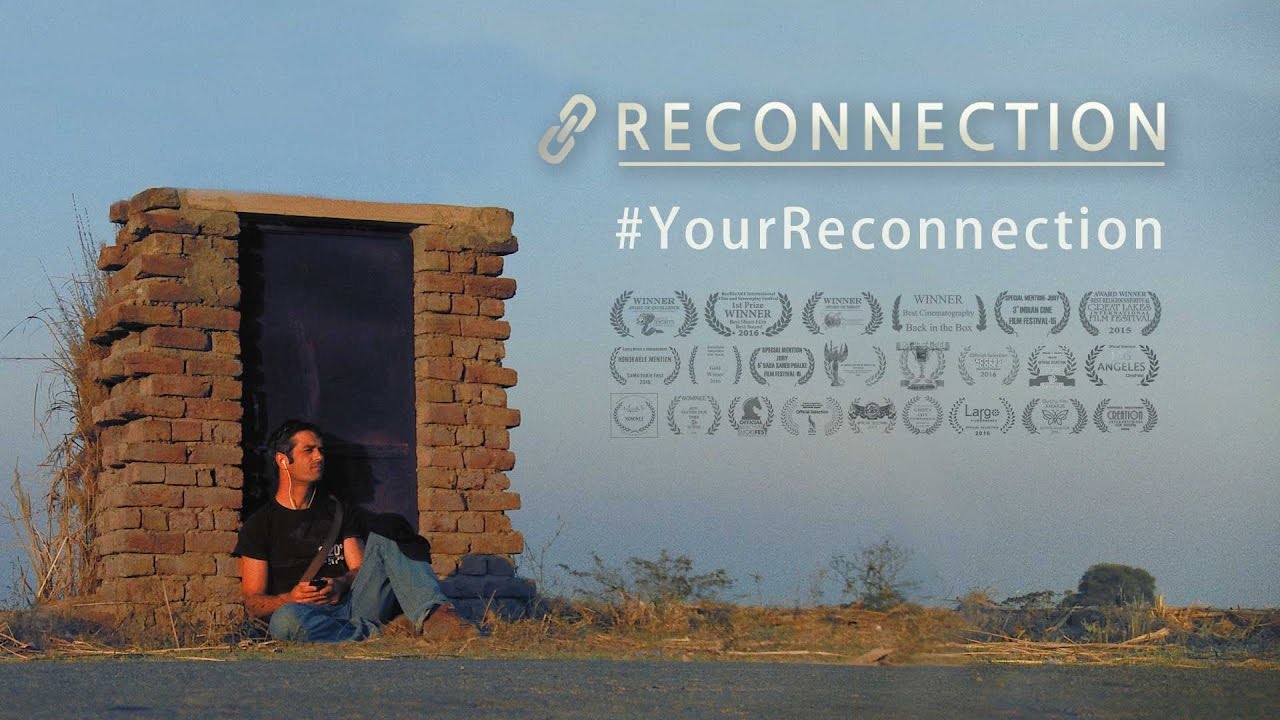 Please read the full original ISKCON News article here, it is totally worth the reading!
To learn more about the film and to find out how you can participate in bringing this film to many, please check out Show Reconnection around the World campaign!
Please Share and Help Us Spread The Word!
How can I watch the film
Be the first to know about the film release! Stay updated on the news.[mauticform id="3″]We are not giving away your address, no spam, we promise.